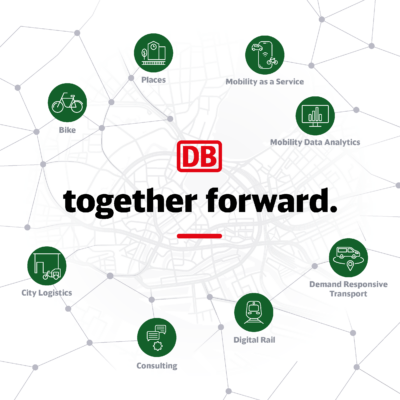 ITS World Congress 2021
New technologies and innovation to make cities more livable
At this year's Intelligent Transport Systems fair, DB as Hamburg´s Smart City Partner will showcase its latest technology and innovations.
This year, Deutsche Bahn will be a sponsor of the ITS world congress, thereby reinforcing our Smart City partnership with the state of Hamburg. We have spent the past four years working together to develop ground-breaking usage concepts for stations, rethinking the station in its setting, and creating new networks of sustainable mobility offerings. Our joint objective is to make Hamburg even more environmentally friendly and livable while at the same time increasing the appeal of mass transit.
MORE INFORMATION HERE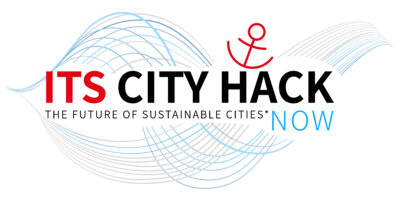 Meet us at ITS Congress
We are not only going to present products and offerings at our trade fair stand, we also want to show our ideas to the city's inhabitants by using a range of locations around Hamburg. We will use one of the first journeys of the Digital S-Bahn Hamburg as an opportunity to unveil the technology used for ultra-automated suburban rail operation. Music band FLONSKE will take to the stage at the station in the suburb of Bergedorf while young people can code their own laser show at Kunstverein at the station Hamburg-Harburg. The fifth ITS City Hackathon took place from October 1-2, selected teams will have the chance to present their pitches at the ITS Congress.
events calendar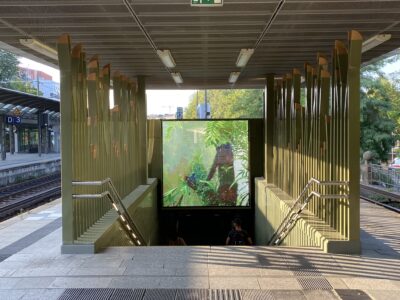 Train stations as places of attraction
Our goal is to make our stations places where people enjoy spending time. At Hamburg Dammtor for instance, we implemented a number of projects so that our guests feel even more welcome. These include new information displays for better orientation or the artistic redesign of the historical vitrines, as well as a light installation. Additionally, there will also be new seating furniture by the end of the year. At Hamburg-Harburg we redeveloped the station building and set up a new garden with more than 25.000 plants. Beyond that we support the climate-friendly combination of train and bike through new services.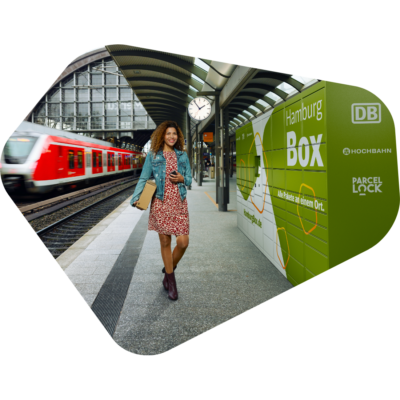 Hamburg Box - Intelligent Smart Locker at the station
Launched in March 2020, the "Hamburg Box" has almost doubled its number of locations to 20 in just a few months. The cross-supplier pick-up station enables customers to pick up shipments on their daily routes at flexible times and without having to register in advance. Cross-industry partners use the Hamburg Box for key handovers, the delivery of fresh food or classic parcel deliveries.