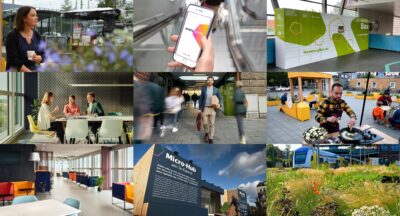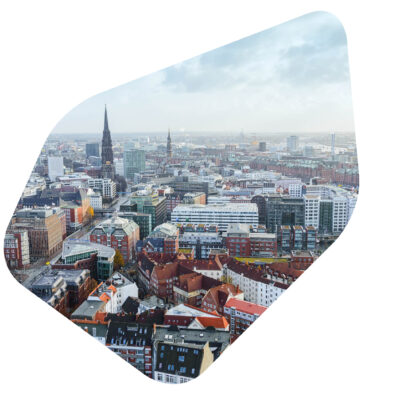 Solutions for a sustainable city
Growing mobility and logistics in the course of urbanisation are understood as the cause of the problem and are made part of the solution. The aim is to simplify the everyday lives of city dwellers by intelligent and environmentally friendly services. The portfolio containing all of the services and offerings that are necessary to create a single, intelligent network between transport infrastructures, mobility and logistics. The synergies connecting these products ensure they can become practical additions to existing infrastructures, and they have a particularly important role to play in the first and last miles of a journey.
Smart City products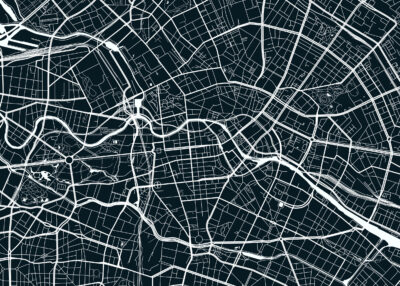 The Micro-Hub at Te-Damm
The new urban logistics solution
In cooperation with the district of Tempelhof-Schöneberg, a new solution in the area of networking on the logistical last mile has been available since October 2020 - the Micro-Hub Te-Damm. In the course of sustainable urban area development, the Micro-Hub, which is partly funded by the BMVI, serves as a central storage and distribution location. Cargo bikes, which are used for the delivery of goods, are specifically designed to avoid emissions in freight transport, especially by stopping in the second row.
more about the micro-depots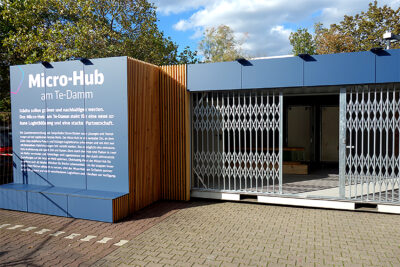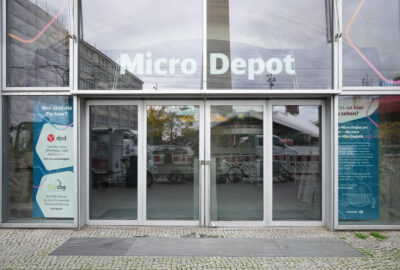 Mobility Hub
Mobilität für alle flexibel zugänglich machen
Flexible Anschlussmobilität direkt am Bahnhof. Das Mobility Hub - ein Ort an dem Reisende und Pendler:innen sämtliche Sharing-Angebotebequem vorfinden und bequem vom Zug auf E-Roller und Co. umstiegen können.
more about the mobility hub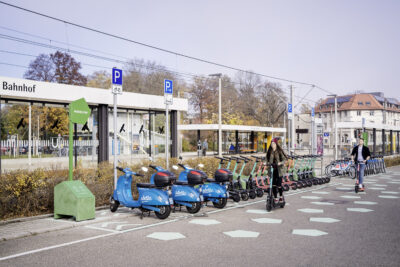 NEWS: 2021 ITS World Congress
New technologies and innovations to make cities more livable
The 27th ITS World Congress will take place in Hamburg on October 11-15. As Hamburg's Smart City partner, Deutsche Bahn we will showcase smart services and projects connected with stations, mobility and urban logistics. We also want to show our ideas to the city's inhabitants by using a range of locations around Hamburg.
MORE about the ITS
Smart City partnership with Hamburg
MoU extended
The Free and Hanseatic City of Hamburg and Deutsche Bahn are extending their Smart City partnership agreed in 2017 for a further five years. The common goal is to contribute to sustainable and future-proof mobility and to strengthen Hamburg as a liveable and environmentally friendly place. Both partners are working together on digital technologies and innovative ideas for public transport and stations.
more about the Hamburg partnership
Smart City Partnership Cologne
MoU in a partner network
In September 2019, Deutsche Bahn, the city of Cologne and the local the local public transport authority of Nahrverkehr Rheinland GmbH agreed on a Smart City Partnership. The aim of the MoU is to use digital solutions and innovative ideas to make public transport more climate-friendly and comfortable for citizens.
more about the cologne partnership
Box - The pickup station
Intelligent Smart Locker at the station
Box - The pick-up station works very simply: The user orders online or in the shop, has his order delivered to a Smart Locker at the station of his choice and can pick it up there with a code around the clock. Delivery to the Hamburg Box is made possible by participating partners at the station, among others. Via an online booking portal, the retailer gains access to the service and can integrate the Hamburg Box as a shipping option into the existing e-commerce system. The bundled delivery to Box. The pick-up station relieves traffic in the city centres, reduces fine dust pollution and, as a side effect, enhances the public transport system.
more about Box-The Pick-up station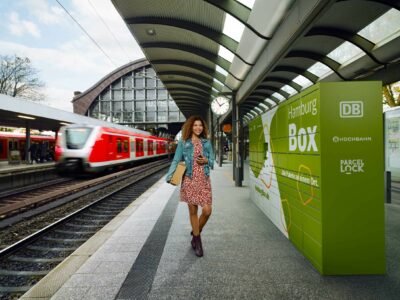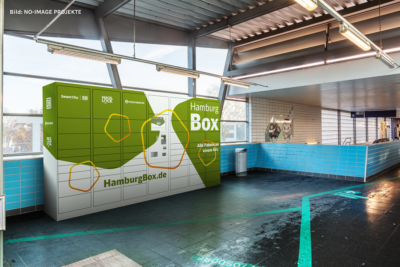 everyworks - your office on the road
Modern and flexible workplaces right next to the station
everyworks offers a quiet workplace for concentrated work in the city's most central location, directly at the train station. Whether it's a flexible individual workstation or a meeting room, you can easily book on-demand via app. If you need something for a longer period of time, our customized resident offices are ready for you and your team.

Now at Berlin, Hannover, Karlsruhe und Nürnberg Central Station. Frankfurt (Main) starting in November 2021
more about everyworks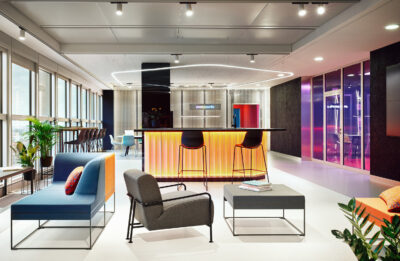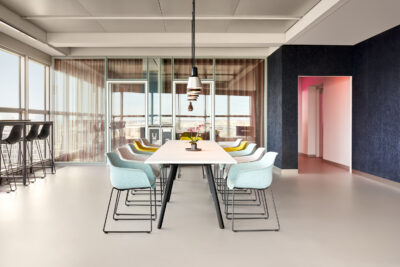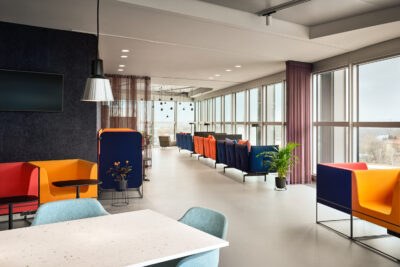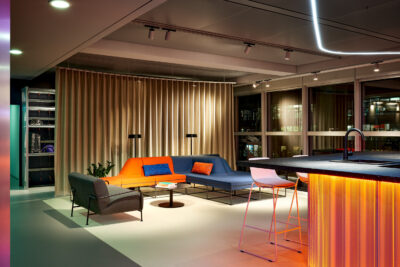 Stations as a places
Stations function as a focal point for urban living
To create appealing locations in the heart of our towns and cities, Smart City | DB aims to enhance the attractiveness of stations further. Safety and cleanliness are essential if a space is to guarantee quality of experience. Smart City | DB's goal is to generate a positive atmosphere. This entails the use of appropriate colour schemes, lighting and furnishings, and it also includes plans for greenery at stations.
Alongside the enhanced appeal of these sites, the project also focuses on developing and implementing new usage concepts such as coworking, smart lockers and multi-use pop-up spaces. Together, these can turn stations into places that are at the heart of our urban lives.
more about Places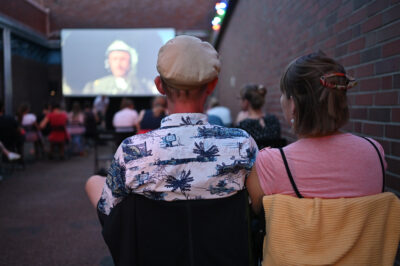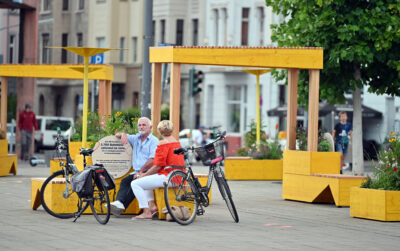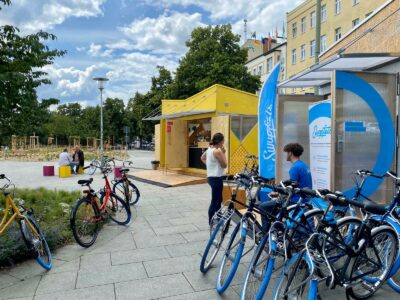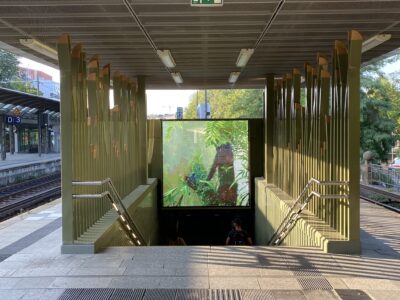 On-Demand shuttle service
Giving everyone flexible access to mobility – the ioki mission.
Building on mobility analytics, ioki knows the right way to deliver successful on-demand mobility, integrated into existing public transport services and always with an eye to the future of autonomous driving. End customers can use an app to order this dynamic shuttle service when they need it, and it operates without a predefined timetable or routes. As an addition to public transport, ioki represents an intelligent solution for providing transport on the first and last miles of a journey.
ioki is a white label solution that provides a total package, consisting of mobility analysis, an operating system for on-demand mobility, and consulting for planning and launching operations. Vehicle concepts are all designed to complement one another and be combined in a flexible manner.
more about ioki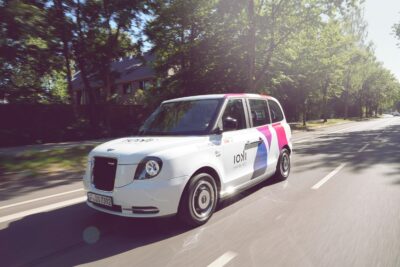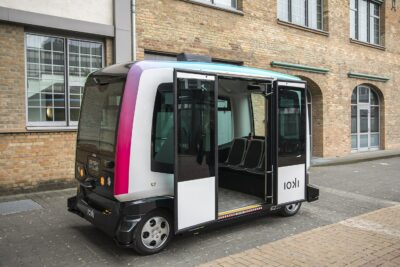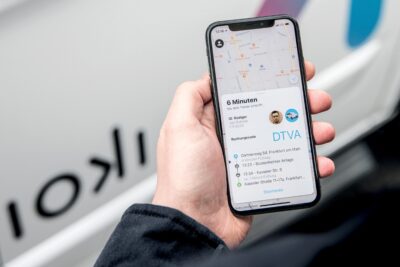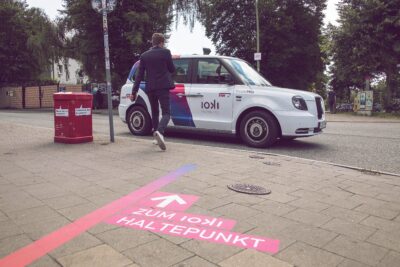 Urban Analytics - from gut feeling to a well-founded decision
Development of new and strategic potentials
Urban Analytics put the finishing touch to the Smart City | DB portfolio. Based on location, mobility and logistics data, the potential of new products is estimated and suitable locations and service areas are identified and evaluated. The results help to plan and develop our portfolio in line with requirements. Based on the analyses, cities can be intensively advised and an integration into existing urban structures can be ensured.